Picked up my new toy from Truro, a 1 owner 1980 Triumph Dolomite. Stunning and completely rust free. Anyway the car comes in at 950kg not sure about the trailer weight. Plus the Triumph boot is full of spares and some on the back seat. The Vitara which is sagging at the back contains an Auto box, torque converter, 2 fly wheels, differential, prop shaft , 2 boxes of assorted spares and bumpers.The owner was a true enthusiast. At a guess I was well above the all up recommended towing weight.  To say I was a bit nervous would be an understatement as the mass of spares was unexpected. My Vitara is a 1.6 auto allgrip petrol . However using sport mode made the journey surprisingly easy, without it would have been hard going. Set the speed at 65 which gave a sat nav speed of 62. This meant I could drift pass trucks without any trouble, hit 70 a couple of times with no issues, but I never forced it and allowed the car to do its own thing without any hard acceleration. Amazingly it still managed 40mpg .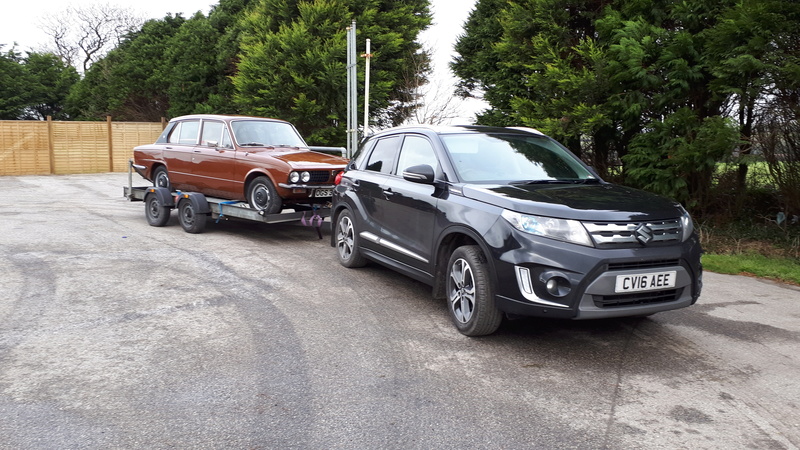 graham04




Posts

: 337


Join date

: 2016-05-03


Location

: South Wales



Glad to hear the Vitara has impressed with its towing ability, even not towing i always thought the sport mode was essential in owning a 1.6 when i had my
Nice find on the Dolomite, often overshadowed by the TR6/Stag but the Dolomite in its day was quite competitive in Touring cars and Rallying......seen a few recently on the HERO events
That 3spd auto box is going to be an eye opener tho after the Vitara! 8-)


Karl
Did you have your headlights on when doing the move, with all that weight on the rear end did you get flashed by oncoming vehicles????

JDVitara




Posts

: 229


Join date

: 2017-05-25


Location

: Twixt Leeds & Harrogate



I was a bit concerned when it got dark but the automatic headlight levelling works a treat. They were exactly the same as unladen.

graham04




Posts

: 337


Join date

: 2016-05-03


Location

: South Wales



So you did get flashed then

alec




Posts

: 132


Join date

: 2017-01-15


Age

: 57


Location

: Woking, Surrey



Graham did you take a look at the rear driveshaft angles when the Vitara was loaded, mine frighten the hell out of me when empty!

HILLCLIMBER




Posts

: 171


Join date

: 2016-04-03


Age

: 73


Location

: North Devon



Towing capacity for Vitara & S-Cross is 600 Kg unbraked & 1200 Kg braked.
I load my unbraked trailer up with 600 Kg of lignite (young coal) once a month. Don`t know what trailer weighs, maybe 250+ Kg.
S-Cross 1.6 auto GripAll petrol hardly knows it is there, except for the hills.

maxlev




Posts

: 46


Join date

: 2016-11-29


Location

: New Zealand



There was no way I was going to look underneath the Vit while it was at that angle. Lucky just to hold on to the camera. Still the Dolomite is on its own wheels now and taxed. The 3 speed auto box is definitely a bit lacking compared to the modern Suzuki but still a bit of fun. Just shows how things move on, despite them being similar size engines, the Vitara in 6th gear on the flat shows about 70mph at 2000rpm The Dolly does 37mph at 2000rpm.

graham04




Posts

: 337


Join date

: 2016-05-03


Location

: South Wales



I`ve decided Sport mode becomes Trailer mode when towing, moved my race car and trailer yesterday it was quite ok in auto mode but I had one long steep hill to go up so I used Sport mode and it simply flew up, easily as fast as in Auto with no trailer, most impressed especially from 1.6 litre.

HILLCLIMBER




Posts

: 171


Join date

: 2016-04-03


Age

: 73


Location

: North Devon



---
Permissions in this forum:
You
cannot
reply to topics in this forum