Hi, i was wondering if anyone have had an idea for replacing the central dash clock, i mean we have a clock on the screen and another on the info panel, and thye analog one is a nice touch but also a great oportuniti to put something elese wich i havent thought exactly, any ideas?

WMETRALLA




Posts

: 16


Join date

: 2016-12-30


Age

: 38


Location

: Yucatan Mexico




Rattly




Posts

: 252


Join date

: 2017-01-24


Age

: 63


Location

: Wales




Chris




Posts

: 11


Join date

: 2016-03-30


Age

: 68


Location

: Sutherland



The SZ-4 and SZ-T both have a blanking cap in the dash like below...
I start with this as it may be difficult to find another gauge the same diameter as the oe clock but with this blanking cap you could drill/cut to suit a smaller diameter gauge
Not on 4 wheels but on 2 wheels I have used Koso instruments in the past and found them very good quality
The company I use for Koso also supply other brands you can see here....
https://www.digital-speedos.co.uk/gauges-c4/car-gauges-c28
Karl
Excelent ideas, and yes i was thinking about the inclinometer, and also some vitaras have the front car speed radar, i was thinking about looking for somenthing like that also, although i dont know  if that would be of any help at all ha ha, but you know Karl with this cap i also think about a suction cup cell holder, or a tablet holder.
By the way i put a suction cup under de AC controls for mi phone let me upload a photo.
I bougth this at Amazon and its perfect
https://www.amazon.com/gp/product/B00JRGOKQ8/ref=oh_aui_detailpage_o02_s02?ie=UTF8&psc=1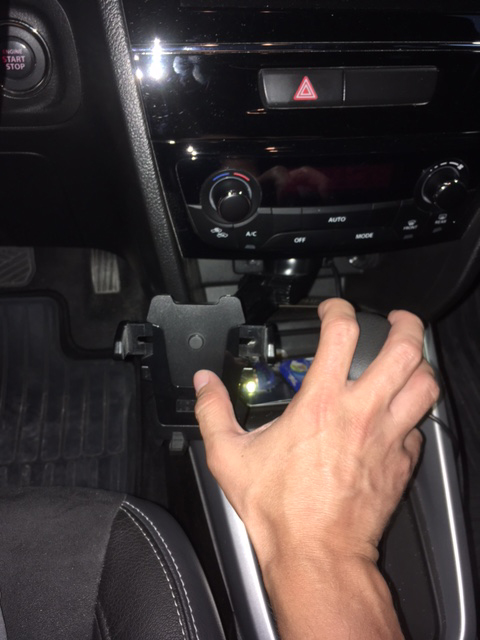 WMETRALLA




Posts

: 16


Join date

: 2016-12-30


Age

: 38


Location

: Yucatan Mexico



This way is easy to use it with your hand firmly on the stick or the seat

WMETRALLA




Posts

: 16


Join date

: 2016-12-30


Age

: 38


Location

: Yucatan Mexico



Great ideas but here in the UK it's illegal to use a mobile phone in a car.
GS

Grumpy Souter




Posts

: 156


Join date

: 2016-01-20


Location

: Scottish Borders



Oh i see, here in Mexico is the same, but when off road, not really matters i use it for the maps

WMETRALLA




Posts

: 16


Join date

: 2016-12-30


Age

: 38


Location

: Yucatan Mexico



Similar topics
---
Permissions in this forum:
You
cannot
reply to topics in this forum