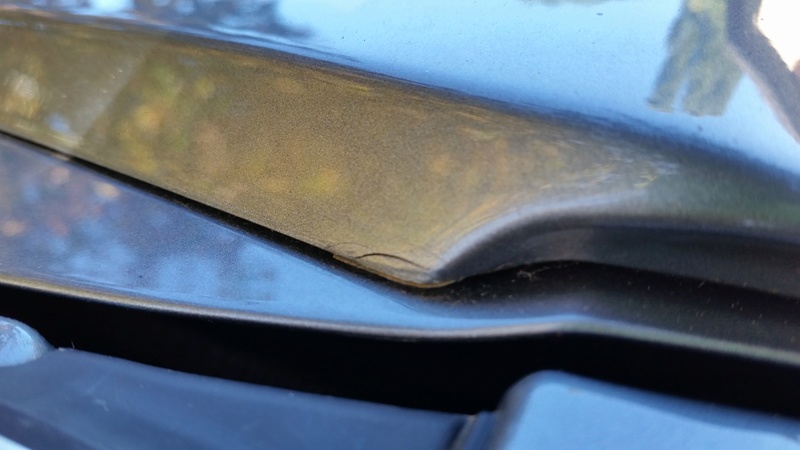 This crack appeared in the paint on my rear spoiler about a month ago. It has not been hit or happened for any reason i can think of. I have had it in to the dealer to be repaired under warranty which took 2 days. They made a terrible job of it and even managed to put a new blemish on the paint. I am now waiting for a date for them to try again.
The courtesy car they gave me was beyond belief. An old Le Poste van with the logo taken off. The next nearest Suzuki dealer is an hour away but i am seriously considering going there for my service.

Badfx




Posts

: 83


Join date

: 2016-01-08


Location

: Dordogne, France



Love the courtesy car, I hope it keeps you dry ho ho. The crack looks like impact damage to me , however there is no excuse for a shoddy repair.

graham04




Posts

: 340


Join date

: 2016-05-03


Location

: South Wales



Have to admit I like the Johnny Le Poste van, they are like WRC drivers around the Alps they know the roads so well
I believe the spoilers come pre painted and possibly painted locally in Germany as most of the accessories are sourced by Suzuki DE then distributed through out Europe
Normally I would have expected they would have just supplied another spoiler pre painted and fitted that rather than repair the one on the vehicle I would return to the dealer insisting they replace the whole thing
I have a genuine Suzuki rear spoiler for my Grand Vitara and although new in the packaging never been used the paint is not 100% , this is part the reason why I have not had one fitted to my new Vitara
The GV spoiler is made for Suzuki DE by Polytech Holden....
The part number above is for a European sourced part but Suzuki Japan list 99000-99056-*** and is no doubt painted at the Suzuki factory in Japan and a better quality paint  
On a similar note my front skid plate is showing really bad stone chips in the silver paint, I don't tailgate and the original grey bumper does not have any corresponding stone chips, I can only think that the  paint used on the skid plate is soft and not up to the job, first/12month service on Tuesday and I will bring it up with the dealers
Karl

Badfx




Posts

: 83


Join date

: 2016-01-08


Location

: Dordogne, France



Trouble is you will always see it? Get them to replace it as they should have initially
Just collected my Vitara from 12mnth service and either the technician (who has denied it) or valeter (who had gone home) has kindly taken two chunks out of the dash direct in the line of sight on the dashboard, to repair it is a complete dashboard so I am not too happy, I was up first thing this morning to wash and hoover the car so they did not but now the dash is covered in silicone and the above mentioned damage
Karl
Just the sort of thing I worry about when my car goes into a dealership for any reason. I always tell them NOT to wash or vacuum and insist they write it on the job sheet. They still managed to put an oily footprint on the drivers mat though!

Grim Reaper




Posts

: 175


Join date

: 2015-07-28


Age

: 73



Got an email today to say they will replace the spoiler tomorrow. Hopefully without incident.

Badfx




Posts

: 83


Join date

: 2016-01-08


Location

: Dordogne, France



Great news Neil, exactly what they should have done in the first place
I have yet to return the call to my local dealers since they scratched/gouged my dashboard two weeks ago as I am still at a loss as to how they can rectify it without replacing the whole dashboard which we all know will never be without rattles or further damage,to be honest I have not even been in the Vitara since
Karl
Similar topics
---
Permissions in this forum:
You
cannot
reply to topics in this forum