Taking a look up under the rear of my car today the Allgrip appears  to me to be a real afterthought, I originally thought it seemed odd to have a beam axle at the rear rather than the  independent setup of the Grand Vitara but the angle of the driveshafts looks completely wrong to my eyes, considering that the car is brand new and unladen ( ie sitting as high on the suspension as it ever will) the diff looks to be at least 30 to 40 mm too low with the shafts angled up from diff to wheels, now put say four adults plus luggage and a caravan or in my case a trailer on the back and the angle will be even steeper to say nothing of the diff ground clearance, it just looks plain wrong to me, has anyone else noticed this?

HILLCLIMBER




Posts

: 171


Join date

: 2016-04-03


Age

: 73


Location

: North Devon



I've noticed when driving behind my own car (that has been commandeered by the better half) that you can see the diff and the shafts spinning, which brought me to think "should they be that noticeable" it's my first 4x4 so I'm rather new to it.

Gar Green




Posts

: 939


Join date

: 2016-04-23


Age

: 31


Location

: South Wales



HILLCLIMBER wrote:the Allgrip appears  to me to be a real afterthought.....
Being a Suzuki and 4x4 being what they are renowned for with their cars i'm sure Allgrip was a priority rather than an afterthought
Unlike vehicles such as the Jimny with it's solid axle any independent suspension is going to lose ground clearance at the diff as the rear coils compress so the new Vitara is no different to the Grand Vitara in that respect but I do agree the driveshaft angles do seem reversed, I guess this would help the road handling giving a lower center of gravity and highlights that unfortunately the Vitara is aimed more as a road vehicle with 4WD rather than for off roading although my recent Alps trip I tried to prove otherwise (drive report to come)
I guess the only way to enhance the rear suspension is to fit helper or lift springs such as the MAD kit?
I often follow other 4x4's and think how steep the driveshaft angles are and what problems/wear rate they must have, one in particular is the Dacia Duster...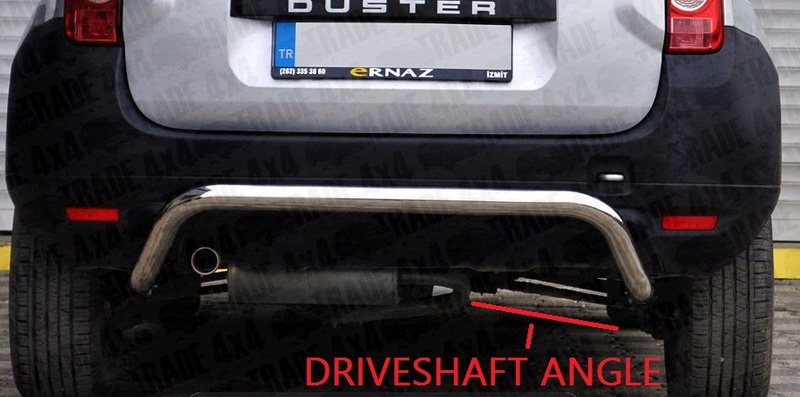 My job is rebuilding transmissions primarily for classic cars but my work often crosses over to modern vehicles and in the past worked with a friend from Land Rover transmissions R&D
One instance of driveshaft angles/issues I recall is that on the early Freelanders there was a well known rear diff failure, especially on 5 door models. It turned out that the diveshafts were angled similar to the Dacia above and when there were rear passengers in the vehicle the drive shafts levelled out and there was not enough movement in the CV joints which then ran hard on the differential side bearings causing diff failure yet 3 door models were less prone to diff failure as they were less likely to have rear passengers
Karl
Similar topics
---
Permissions in this forum:
You
cannot
reply to topics in this forum