Has anyone already bought the carpet mat set offered as genuine vitara accessory?  Do you think they worth the cost? Any picture would be highly appreciated. I'm mostly interested due to the fixings they have (I assume they are included in the same package).
Last edited by Prokopas on Wed Apr 27, 2016 4:56 pm; edited 1 time in total

Prokopas




Posts

: 70


Join date

: 2015-11-30


Location

: Athens, Greece



I have a set of the Suzuki rubber mats which fit perfectly. The dealer fitted the carpet set first by mistake and left them in the car for a week until the rubber set arrived. I have to say that I prefer the rubber mats. They fit much better whereas the carpet set looked to be badly fitting and not as snug.

Tall bloke




Posts

: 104


Join date

: 2016-03-19



I've got the Suzuki supplied ones and they are fine, look same quality as one I had in my GV which were looking still ok after over six years but I do put them away late autumn until the spring and  use rubber ones for the winter.

RichK




Posts

: 222


Join date

: 2015-05-19


Location

: Worcestershire



Genuine here, yes the fittings come with them, fit well and look good
Last edited by Gargreen on Thu Jun 23, 2016 2:24 pm; edited 1 time in total

Gar Green




Posts

: 938


Join date

: 2016-04-23


Age

: 32


Location

: South Wales



My Vitara last year was delivered with some mats that were non genuine yet were the correct shape/fitment and had the dealer logo, they had also used the awful screw in retainers that do nothing other than poke hole in your carpet that gradually grows instead of retaining the mats
After a month (and without the awful screw retainers fitted) the mats started to look a bit shabby so I fitted the Genuine Suzuki 75901-54P00-000 Carpet mat set, with silver logo I had ordered prior to receiving the car (be aware unlike all other mats the "Silver" logo has black stitching unlike all the other colours having co-ordinated logo/stitching)
Once fitted you could already see they were better quality and also had the correct retaining clips
Living in the sticks I seem to find everything outside wants to be inside especially with my cars so a month later the above was removed and 75901-54PA0-000 Rubber mat set has been in since
As soon as the freak weather (although I am enjoying the current bursts of snow) sorts itself out I will be fitting my
75901-54P00-WHT Carpet mat set, with white logo & edge stitching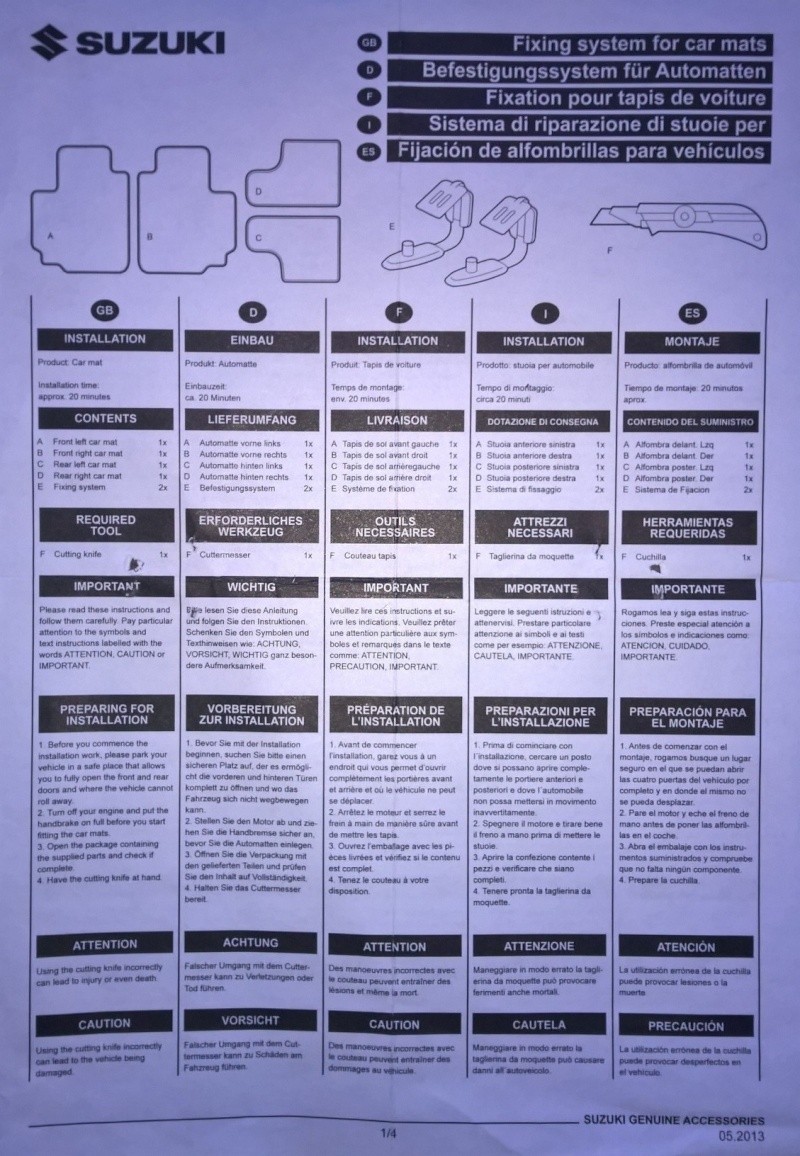 As RichK says I also have the o/e mats in my GV and are as good as new over 4-5 years
Karl

Prokopas




Posts

: 70


Join date

: 2015-11-30


Location

: Athens, Greece



I have the suzuki vitara mats fitted In my car and after 5 months the area where my heels rest drivers side are showing signs of wear, I need to put something else on top to stop this wearing right through, any suggestions welcome.

mrgrimsby




Posts

: 150


Join date

: 2017-01-15



Complain to Suzuki , they will still be under warranty

Karl
---
Permissions in this forum:
You
cannot
reply to topics in this forum