Hey guys,
So here's my Vitara.
Vitara 1.6 DDiS Active All-Grip in supreme white.
It's only a few weeks old, but I quickly got the first 1.000km out of the car and then we attached our caravan and off we went. It's does a really good job of towing, though the rear springs feel a bit soft for the task. Nothing to worry about though, towing was a pleasure. Especially with adaptive cruise control doing it's thing.
I drive around 45.000km (~28.000 miles) a year so the Vitara has it's work cut out for it
Just minutes after delivery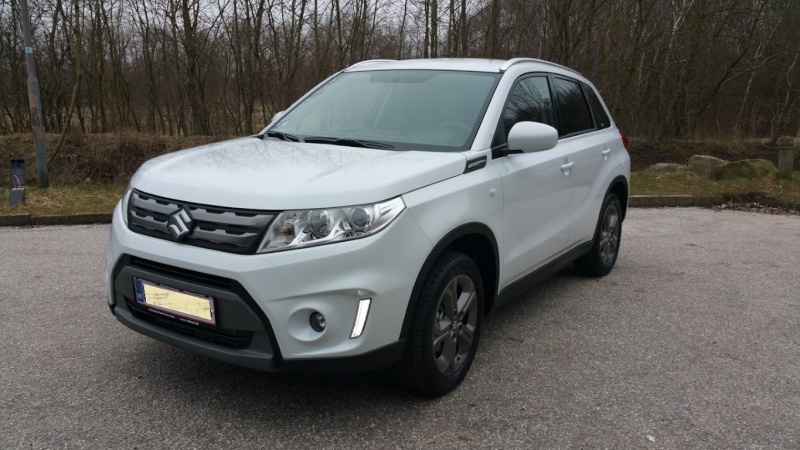 All loaded up with 1.5 ton caravan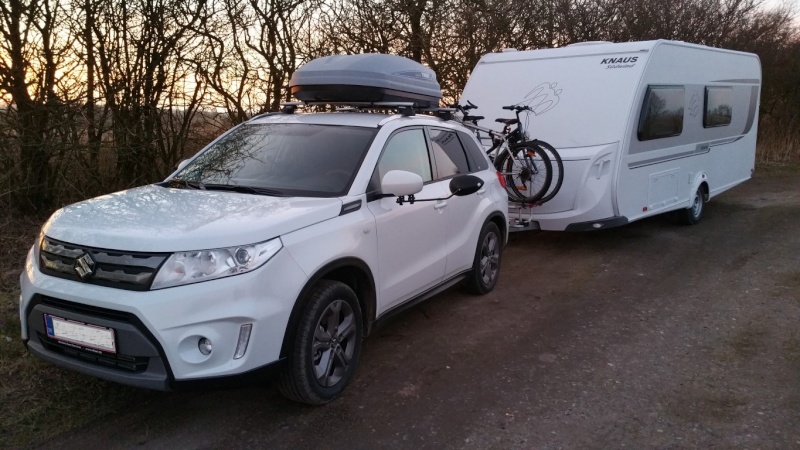 I got it ordered with black rims for winter tires, haven't seen those rims live yet though.

Hadus




Posts

: 40


Join date

: 2016-01-11


Age

: 40



That is one loaded Vitara Hadus and thanks for the report on towing with the Vitara, if you do decide to improve the rear springs I think MAD suspension have a suspension kit to improve towing.....
http://mad-suspension.co.uk/pdf/MAD_CARAVAN.pdf
Very nice winter wheels as well, are they 16" or 17" & what tyres will you be fitting?
Karl
Hi Karl, honestly I'm not sure about the winter wheels yet. I've only gotten as far as making sure I had the wheels
They are 17".
I'll have a look at MAD suspension if the rear sag gets too annoying. I had progressive spring on an earlier car and a few motorcycles, always a pleasure to drive with.
Looking forward to trying it all out when we head north in the next winter too .... looking forward to winter, well that's a first
Hoping to try out some mild off-roading during the summer too.

Hadus




Posts

: 40


Join date

: 2016-01-11


Age

: 40



Look forward to the Drive reports on your Winter and Summer trips
Also just found the link to the Helper springs....
https://vivavitara.forumotion.co.uk/t30-mad-cross-country-suspension-kits
Karl
Ooooh, that's actually pretty cool. Especially the set that raises the whole car, not that I need the whole car raised, but I don't imagine it would hurt the looks.

Hadus




Posts

: 40


Join date

: 2016-01-11


Age

: 40



---
Permissions in this forum:
You
cannot
reply to topics in this forum