Does anyone use their Vitara to transport their dog around in the rear ?
I was wondering if there would be enough room to carry a labrador size dog in comfort, as it does look a little tight when you view the rear space from within the car.


AKC1




Posts

: 76


Join date

: 2020-01-25


Location

: ESSEX



Medium sized border collie in mine, the floor space is probably ok but could be a bit tight for a lab if you use the suzuki dog guard. It doesn't fit as close to the headrests as it could and restricts the headroom available between the guard and the rear screen, especially in my car with the additional tail gate guard.

imack




Posts

: 105


Join date

: 2020-11-10


Location

: Kent



That's a lovely looking collie, he/she must be quite petite as the boot space looks huge, I didn't know that rear guard was available, very interesting!

K1K




Posts

: 31


Join date

: 2020-04-21


Location

: Yorkshire UK



The tailgate guard isn't for a vitara. It's over 20 years old and was a custom made for my old 2000 Vauxhall Astra estate by a company called Barjo engineering.
I cut it about and rewelded it to fit the Vitara.
I think she's managed to make herself look particularly small in that photo.
Couple of other photos of my previous old collie who was a very similar size to the current one.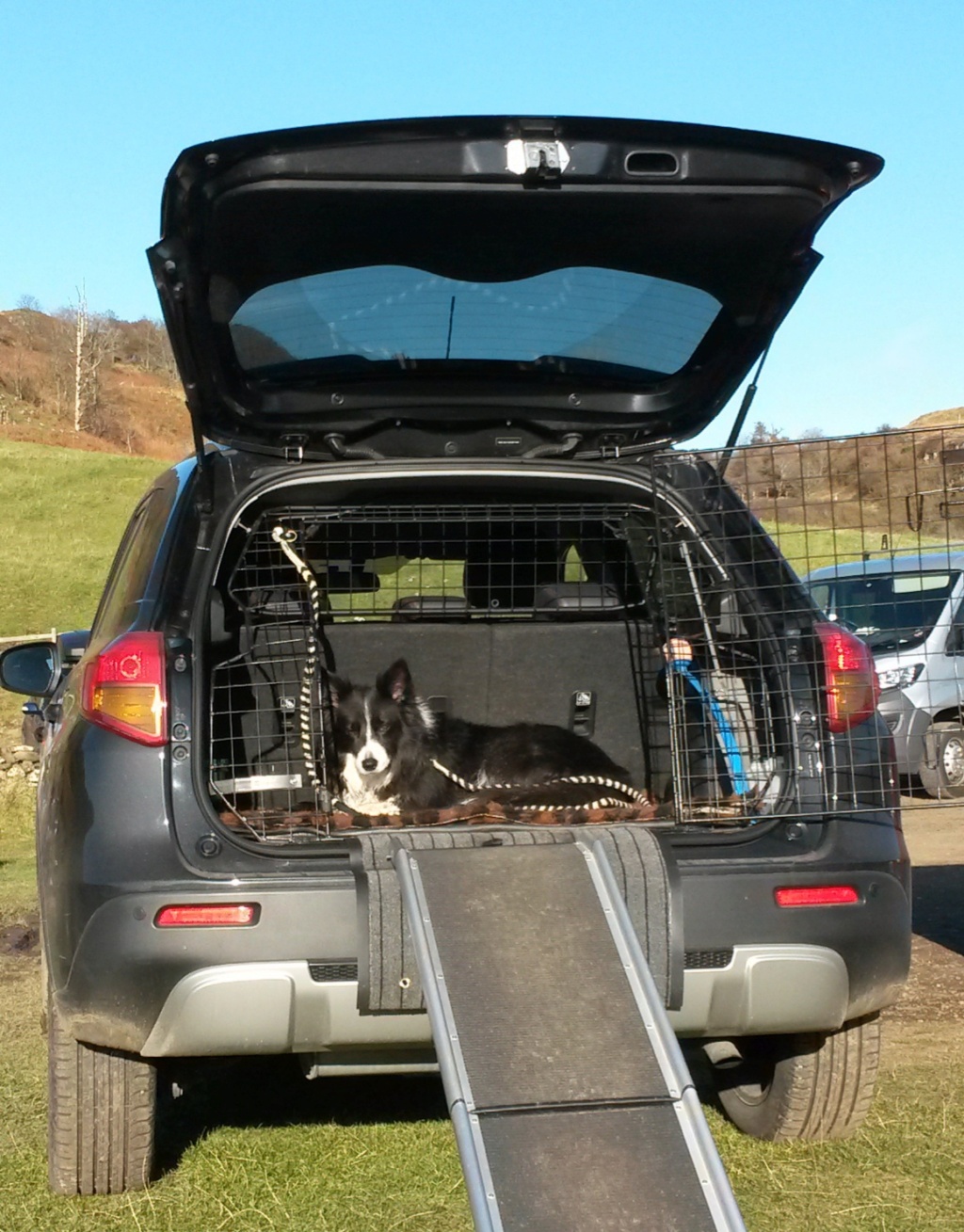 imack




Posts

: 105


Join date

: 2020-11-10


Location

: Kent



Yep I have a mixed mostly Foxhound.  He's 40kg and Fat Labrador sized.  He fits happily in the back of my Vitara.

The guard is from eBay Ergotech its italian. Clamps to the headrests its very solid and well designed.

https://www.ebay.co.uk/itm/332544296645



Here's a tip. Dog fur...it gets embedded in the coverings on the boot floor, back of the seats. Buy a Lilybrush. You'll find it works a treat.

Ethanedwards




Posts

: 10


Join date

: 2020-09-11



Hi,
We now have a working Cocker who happily fits in a crate in the boot, but our previous Bearded Collie was perfectly OK in the boot space, with plenty of room to lay out flat.
For smaller dogs, people may be interested to know that one of the standard Ellie Bo angled crates fits exactly in a vitara boot, with a bit of space at the side for some luggage.
regards
Geoff

windsor




Posts

: 25


Join date

: 2019-08-20




windsor




Posts

: 25


Join date

: 2019-08-20



Similar topics
---
Permissions in this forum:
You
cannot
reply to topics in this forum