I've noticed some people have installed a shark fin antenna.
I came across this antenna accessory:
https://www.wangarasuzuki.com.au/new-vehicles/vitara/accessories/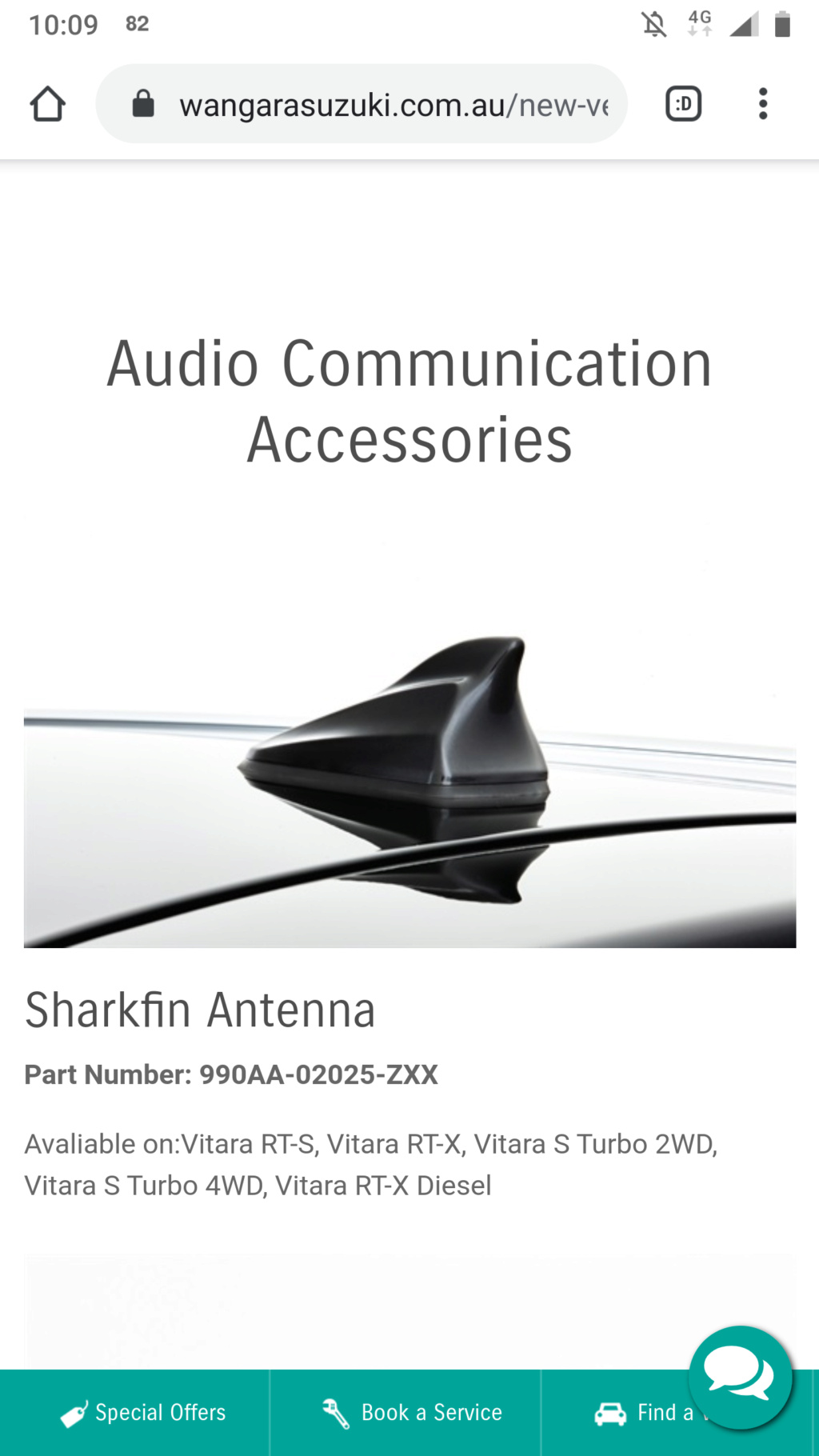 I'm wondering if this Suzuki product is better or just the same as all the other Shark fin antennas on the Internet.

suzukhalid




Posts

: 51


Join date

: 2020-02-19



I purchased one of the cheap shark fins and decided against it as the mounting area was very sharp and was concerned it would damage the roofs paintwork as the 3m tape was quite uneven
If you look at the above Australian Shark Fin you can see it has a decent rubber gasket where it meets the roof so no doubt worth the extra

Karl
Dont you have to drill a hole in the roof for a cable anyway?

tigersaw




Posts

: 114


Join date

: 2019-04-27


Location

: Llanwrtyd Wells



They either attach to the original aerial base fitted or mount through the hole already there when you remove the oe aerial

Karl
From the website, I like the black nudge bar, but no idea what I'd use it for.

JDVitara




Posts

: 246


Join date

: 2017-05-25


Location

: Twixt Leeds & Harrogate



i tried one of the aftermarket shark fins,the one i got had the rubber gasket and attached to the existing aerial base with a brass stud and nut,but the problem i had,the roof had that ceramic type coating put on by the original owner from new at the dealer,and no matter what i did the 3m tape will just not stick to it,so put the original whip antenna back on,i did try a stumpy one as well but reception was crap to say the least so never bothered just left it original...

Hutchy




Posts

: 142


Join date

: 2019-12-24



I can see how a rubber is essential. I imagine it'll just need sticking on in place. Hutchy it's great you have the ceramic coating, but too bad it doesn't stay stuck on.

Can you please share where you got the shark fin from with the rubber gasket.

suzukhalid




Posts

: 51


Join date

: 2020-02-19




Hutchy




Posts

: 142


Join date

: 2019-12-24



Thank you.
If you take the Vitara ariel off. What's underneath, just some ariel wiring?

suzukhalid




Posts

: 51


Join date

: 2020-02-19



you leave the vitara aerial on just unscrew the mast then the shark fin has a wire with a screw that ifts in place of the mast then the whol lot fits and sticks over the original aerial..her,s a genric video...
shark fin

Hutchy




Posts

: 142


Join date

: 2019-12-24



---
Permissions in this forum:
You
cannot
reply to topics in this forum