Anyone else thinking of moving to the (new) Jimny? I have enjoyed four years with the Vitara but I've found it just a bit too... light/soft/easy. If I could afford it I would keep the Vitara and add the Jimny. Sadly I can't.

suladna




Posts

: 14


Join date

: 2017-09-17


Age

: 64


Location

: North Norfolk



I 'expressed interest on the online form' when they were announced. I followed it up by trying to order one. The dealer I was referred to told me they had only 2 allocated this year and not one for me. Customer services told me they are not taking any more orders. So, unless you have a secret source...

tigersaw




Posts

: 87


Join date

: 2019-04-27


Location

: Llanwrtyd Wells



My friend purchased a new Jimny SZ5 Auto and gave it to me for 2 weeks and I covered the initial 1000miles before it's first service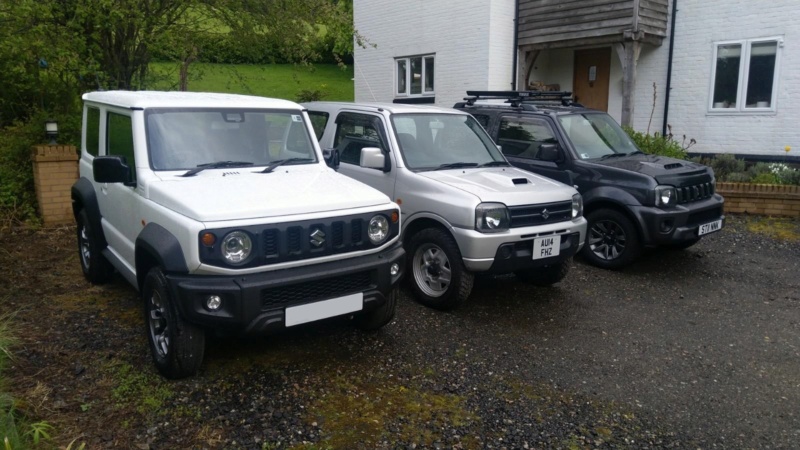 Currently owning both a 1.3 Jimny and a Japanese spec 660 Jimny (and many many more Jimnys prior to that) i found the following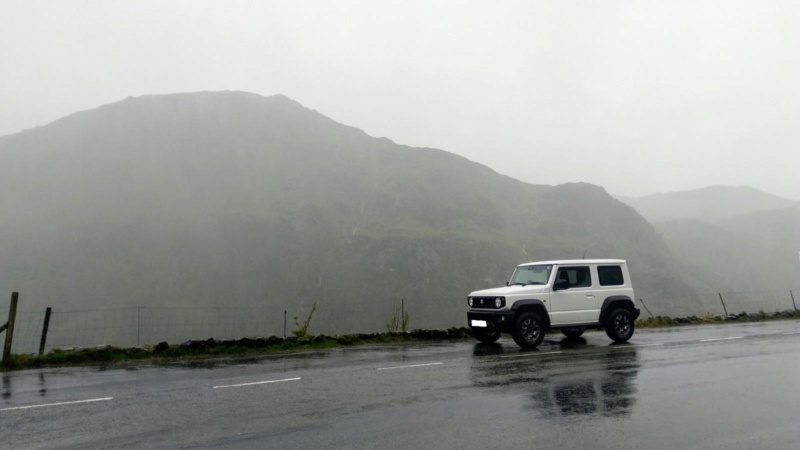 Styling is absolutely fantastic, both exterior and interior, lots of nice retro details from the LJ/SJ era . With the more boxy body styling and less plastic rear trim luggage space with the seats folded is more useable and a simple thing like fitting the electric window switches in the centre console has allowed them to leave the doors narrower giving more leg room left to right
Equipment is now up to date with modern cars with the Bosch head unit/navigation, cruise control, radar braking and even heated seats on the SZ5
Handling i think has been compromised by using taller 195R15 over the previous 205/70R15 but the flip side is that the ride is not as choppy as before
But the bad news is the K15 Engine
Ok the car was new and it was an automatic (i have also driven a manual) but the thing was gutless and boring and made the whole experience (other than it's looks) no better than driving our 1.3 and my 660 Turbo would leave it for dead
Off road the Jimny was as good as the older model but with the added benefit of Electronic Hill Descent and also the Grip Assist that is like an electronic LSD
On returning the car to my friend i didn't initially tell him the downsides, i wanted his feedback first and after a week he also admitted how boring the 1.5 was and we both agreed for the cost that a 1.4 Vitara(other than low range off roading use) was a better all round vehicle...…………..a month later he has also now sold the Jimny and toying with another Vitara
Now had they fitted a 1.0 or 1.4 Boosterjet engine the Jimny may well have been a 10/10 but purely on styling id say it was a 7/10 until they hopefully fit a Boosterjet. This would also in turn sort out the emissions issue they are having with the 1.5 and the penalties Suzuki will be paying for each one they register
From 2020 in Europe, CO2 emissions across Suzuki's car line-up will be expected to , average 90.5g/km, with a fine of 95 Euros for each gram that level is exceeded. "We could be looking at a €6000 fine per Jimny we sell," Suzuki says, adding that this would have to either be absorbed or the car sold in the UK not for its current £18,000 but nearer £22,000…
Brilliant, a far better review than any other I've read.
Also waiting to see if the 1.4 Boosterjet engine will make it even better or as good as the Vitara.
Having said that, they are different cars for different purposes.

JDVitara




Posts

: 229


Join date

: 2017-05-25


Location

: Twixt Leeds & Harrogate



Had a good look at this myself, the engine is dreadful, poor performance and the emissions are a disaster.  I cant understand what Suzuki was thinking about when the selected the 1.5. It does looks brilliant though !

graham04




Posts

: 337


Join date

: 2016-05-03


Location

: South Wales



Thanks, all, for the replies. Yes the engine issue is the problem (and some concerns regarding the steering), but it does look right. Some positive online reviews.

suladna




Posts

: 14


Join date

: 2017-09-17


Age

: 64


Location

: North Norfolk



graham04 wrote:..... I cant understand what Suzuki was thinking about when the selected the 1.5.
From a reliable 3rd party source apparently  there was so much funding put into design and equipment specs that the K15 (Thai build?) was the cheapest engine option to level out production costs
Plenty of Jimny stuff here...
www.newjimny.co.uk
Karl
Thanks, Karl, and for the extensive review. I get the point about the engine. In reality, though, the Jimny is about tough-road/off-road driving, so the engine issue might not be too much of a problem (not for me at least, here in rural Norfolk where we only have tracks and no roads!) Hopefully, down the line they may consider at least the one litre turbo. The hardest thing is pinning one down. Will have to be patient. In the meantime my Vitara is approaching four years old and has been bombproof. Will be very sad to see it go.

suladna




Posts

: 14


Join date

: 2017-09-17


Age

: 64


Location

: North Norfolk



I love the styling but only 2 speakers and the crappy Bosch

Ashbash75




Posts

: 22


Join date

: 2018-03-31



---
Permissions in this forum:
You
cannot
reply to topics in this forum