Made this trip last week in an Ignis Allgrip but caught plenty of Vitara's in action on this annual Suzuki Italy 4x4 event....
Departure from the UK via Eurotunnel...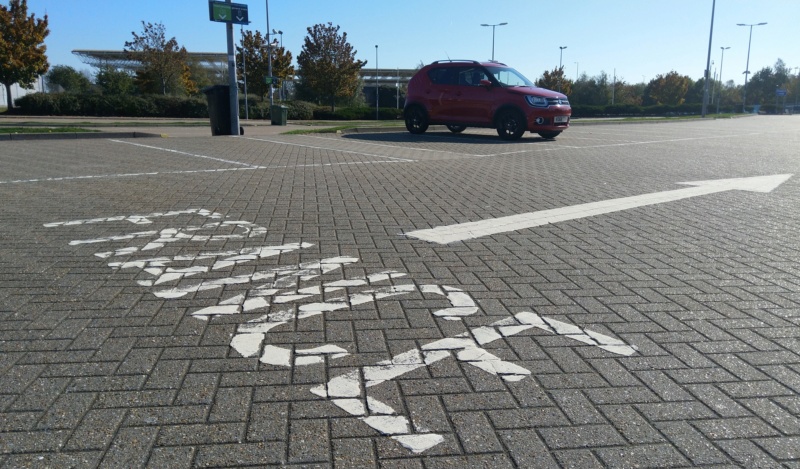 …..and 900miles later in Carrara Italy
Event decals fitted above and a complimentary goodies bag....
And part the reason for the trip was to view/test drive the New Jimny seeing as the UK seems to have forgotten about its launch...
After a quick briefing we were then guided on to one of two routes for the day, one for Suzuki's with low range 4wd (Jimny/Grand Vitara/SJ) and a second suitable for the later AllGrip models (Vitara/S-Cross/Ignis)....
The following pictures do not give any idea as to how steep it was...
...but these pictures may help
Carrara is famous for it's marble and as part of the event we were able to drive into the impressive mine system...
....where lunch had been set up in style
Back outside it was then a dusty drive to the summit of the marble mine...
....where there was yet more food and drink and a chance to try the New Jimny off road
With the event finishing at 4pm we were then told we could freely explore the mine until 5pm (try that in the UK let alone without a hi vis vest and a hard hat?)
And finally Suzuki Italy's Video of the event...
Karl
Good photos Karl, did you get a chance to drive the new Jimny?

Petrust




Posts

: 104


Join date

: 2017-01-30


Location

: Redhill, Surrey



Fantastic photos and a good event!
Petrust wrote:.... did you get a chance to drive the new Jimny?
I got to drive it on the off road track Petrust......approaching the Jimmy it appears very small height wise (possibly due to the lack of integrated roof bars on our current Jimmy) but once inside the cabin is a lot roomier, a big difference is how less intrusive the door cards are as the electric window switchgear is now mounted in the centre console below the heater controls.
Underneath with the exception of the 1.5 engine and lever selection transfer the chassis and axles appear the same as the current Jimny so off road was as good as ever but also has the added benefit of Grip Assist and Hill Descent, both work well although can appear a little noisy as they use the braking system like ABS. Initially the noise can take you by suprise but not really an issue for the little time they are used. We are planning on changing one of our Jimnys for the new model but as yet there does not seem to be a spec that includes leather and keyless entry so will wait until there is a definite UK release
Karl
Great photo's, enjoyed reading through that - thanks Karl.

Woodking




Posts

: 164


Join date

: 2018-10-22



Similar topics
---
Permissions in this forum:
You
cannot
reply to topics in this forum