Last year I toured in Estonia and Latvia, and this year little bit in Latvia, more in Lithuania, and because the start and end of my journey was Helsinki, Finland, I of cource drove across Estonia twice.
First day I drove to souhteast corner of Latvia, small village of Svente, and stayed overnight there. Next morning I visited former Soviet military base, the Borovka fuel depot in Latvia, and then I headed towards Vilnius, Lithuania, and visited the monument of the Geographical Centre of Europe - and got interviewed by a locale radio station
I bet not many know that the actual geographical center of Europe is in Lithuania!
Before going to my hotel I visited Paneriai Memorial Museum in southwestern outskirts of Vilnius. Between 1941-44 about 100.000 people, mostly Jews, but also Poles and Soviet POWs, were shot there by Nazis and their Lithuanian collaborators.
I stayed 3 nights in Vilnius, which meant 2 days walking with my camera in the city, and then drove to Kaunas. On the trip there I photographed Trakai castle and visited Grutas Park, where there are gathered huge number of Soviet statues as well as couple bigger memorials all which have been dismantled from their original positions in various Lithuanian cities.
Then two nights in Kaunas, one day day walking between them, and then towards Klaipeda. On this leg I visited the Hill of Crosses - where there are more than 100.000 crosses of different sizes - and the Cold War Museum, which is a former ballistic missile silo launch site called Plokstine Missile Base. There are 4 silos, and you can visit inside one of them just under the blast door, and see the actual silo as well as tour the underground control center.
Klaipeda was again 2 nights, 1 walking day. Then was time to go back to Latvia, but first I went to see the site of former German 2 World War coastal artillery battery Memel-Nord.
After that was time to see some motor vehicles in Riga Motor Museum Exhibition in Bauska, Latvia. Last year I visited the main museum in Riga - great collection and a very modern museum - but didn't have the time to see the Bauska museum even though I drove across the city. Bauska's collection was much smaller and more oriented on Soviet vehicles, and was a nice visit.
After that was one night stop in a hotel in Adazi, Latvia, and then just a drive and a ferry trip back home.
The journey was 10 days and little bit over 2.500 kms, and the average fuel consumption was 6,8 l/100 km based on actual refuellings.
Unfortunately I only took 4 photos where my Vitara can be seen... Here they are: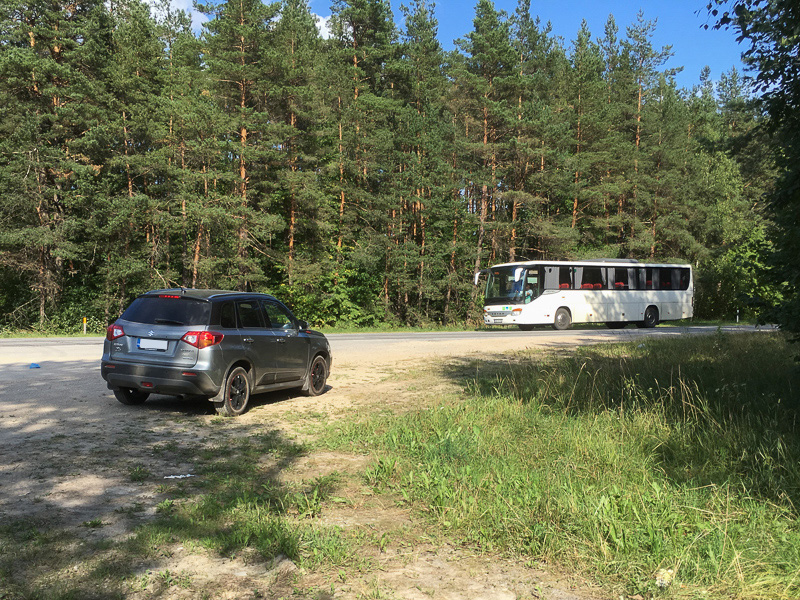 Having an obligatory stop somewhere in southeast Latvia.
At the gate of the Borovka military base, Latvia.
Russian style parking in Lithuania; my Vitara in the background mirros folded.
Riga Motor Museum Exhibition in Bauska, Latvia.
Last edited by sakke on Fri Aug 24, 2018 1:41 pm; edited 1 time in total (Reason for editing : Forgot the details of the journey.)

sakke




Posts

: 60


Join date

: 2018-03-19


Age

: 49


Location

: Helsinki, Finland



Brilliant road trip Sakke, certainly part of the world I would like to explore
Thanks you for the pictures and posting your trip
Karl
Perhaps we could develop a Post of interesting Motor Museums around Europe and the World. Always good to have plenty of stop off points on a road trip. Loved the trip, 42 mpg . Anything over 40 is good for me. Graham

graham04




Posts

: 340


Join date

: 2016-05-03


Location

: South Wales



Similar topics
---
Permissions in this forum:
You
cannot
reply to topics in this forum