Thule Roof Racks Sweden have added the 2015 Vitara to their fitment guide...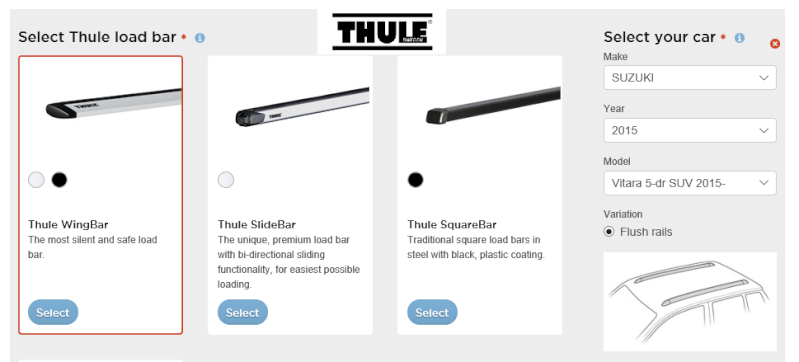 Four variations are available each using the same 4040 Fitting Kit and 753 Foot Pack but with either one of the three bars below
Thule WingBar 961 (118cm) Thule Rapid System 753, Kit 4040
Thule SlideBar 891 (127cm) Thule Rapid System 753, Kit 4040
Thule SquareBar 761 (120cm) Thule Rapid System 753, Kit 4040
Thule ProBar 390 (120cm) Thule Rapid System 753, Kit 4040
Karl
Last edited by Admin on 6th April 2016, 22:00; edited 1 time in total

Paul78




Posts

: 3


Join date

: 2018-10-18



Just ordered the Thule Wingbar kit from Amazon Uk thanks to the info found on here, and there seems to be a new version of the 961-118cm (961100) bars, with the new bars being model number 711200-118cm. I ordered those and hopefully they'll fit!
The roof rack is going to be mainly used to transport a 2 person kayak for the wife and I to get out on the water - and we can't afford a boat so its a cheaper compromise  

Anyone do the same with a Thule roof rack and can recommend what straps to use for safe fixing for a kayak? Cheers.
Edit, I fitted the Thule set yesterday and it fits perfectly and it is very sturdy indeed. Very well made and not too difficult to fit. The new model of bars fit well but they came with old instructions but I got there in the end. The only difference I could see was the rubber strips you have to slide into the top part. No extra noise from them that I could tell from a drive around with the windows open.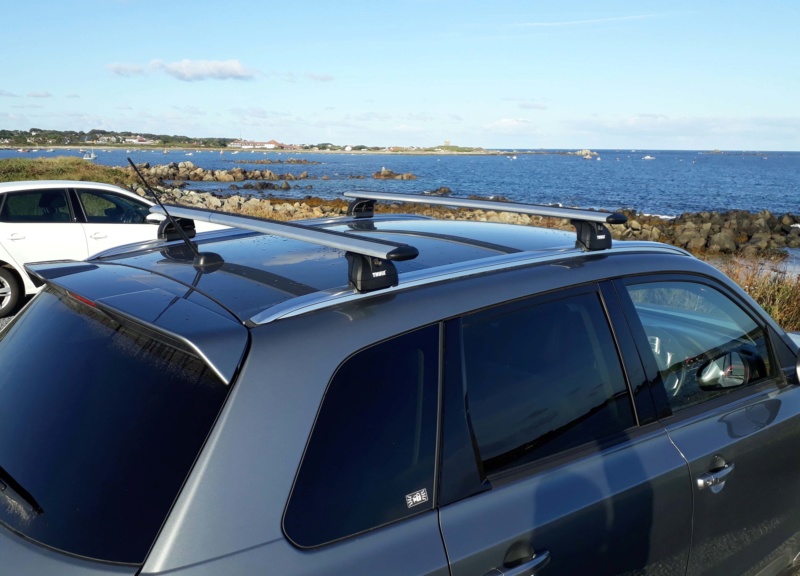 Last edited by Woodking on 29th August 2019, 09:24; edited 2 times in total (Reason for editing : Update)

Woodking




Posts

: 131


Join date

: 2018-10-22




Woodking




Posts

: 131


Join date

: 2018-10-22



Which roof bars did you use Woodking?
I still have my Wingbar Evo which have been faultless but out of interest I have installed the Thule Wingbar Edge with my new Motion XT roof box
This is it last week on the Anglesey racetrack after leaving the Porsche in the corkscrew....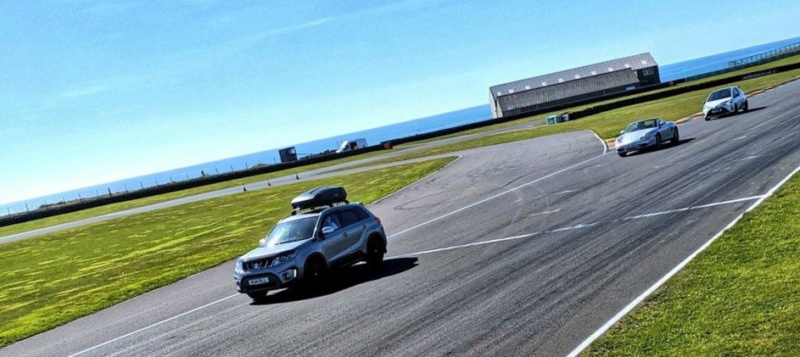 There was some concern by the marshal in the pit lane if roof box's were allowed

We were GPS clocked at 105mph on the back straight (112mph at the same point in a 2.0 Subaru BRZ)
Karl
Hi Karl
I think mine could be the same as your older version, the Wingbar Evo 118 model number 711200-118cm - where you have two rubber strips that allow items to slide in and out down the middle without having to cut the rubber. Very well made and rock solid.
That's some speed you were doing there with the roof box on top!  

The dock grip comes with everything you need to carry a stand up paddleboard or kayak, 2 straps for the roof rack and a front and rear rope if you are going to travel at speed. The mounts are slid in and tightened up by hand and once the straps are fitted and tightened the kayak is held very firmly, I even tried an emergency stop in a quiet car park and it didn't budge!


Woodking




Posts

: 131


Join date

: 2018-10-22



I tried many years ago to carry a Kayak on some roof bars and anything that shape just doesn't want to be strapped down securely so the Thule Dock Grip must be a great piece of kit

I have a Japanese spec Jimny that Thule unfortunately don't do a fitting kit for, I have had to import a roof rack made by PIAA Terzo and although good the quality and fitting does not inspire as much confidence as Thule

Karl
That's just it, they are an odd shape and each kayak has a different hull sides, but that has been taken into consideration with the adjustable pads. They also 'squish ' down which helps with the grip.
I'm impressed with Thule, the quality and fit is top notch and gives me confidence it won't fly off the roof!
The grey wheel at the bottom tightens up and grips the roof bar to adjust the width and the grey button on the side of the pad allows the shape to be changed to fit exactly. Well impressed!
The kayak is not the easiest thing to fit on and off the roof but its a whole lot of fun once you get out on the water

Woodking




Posts

: 131


Join date

: 2018-10-22





Similar topics
---
Permissions in this forum:
You
cannot
reply to topics in this forum